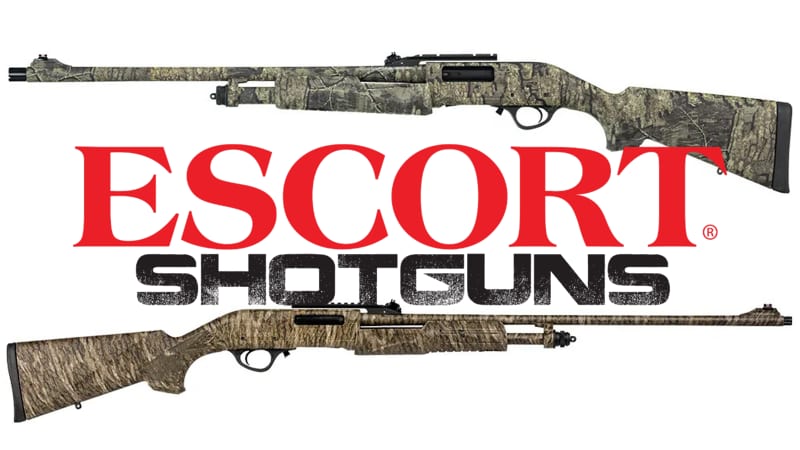 If you've seen your friends and family come back from the field with a nice Turkey every season and you want to get in on the action, maybe its time to gear up! HatsanUSA is proud to announce that they will be importing new ESCORT FieldHunter Turkey Shotguns. Available in 12 gauge, 20 gauge, and .410 bore, these new shotguns are made from durable weather-resistant materials and come with a full set of chokes so you'll be ready to get right to hunting next turkey season.
More from ESCORT and HatsanUSA @ OutdoorHub:

HatsanUSA Introduces new ESCORT FieldHunter Turkey Shotguns
FieldHunter Turkey Features

12 ga, 20g a, or .410 cal; 3" magnum
Pump-action
Aircraft alloy receiver
Durable, advanced polymer synthetic stock and forend with textured grip surfaces
Extended forend for faster cycling
Soft rubber buttpad for recoil absorption
Oxidation resistant, chrome-plated barrel
3 included chokes
4+1 shell capacity
Manual cross-button safety
Mounted sling studs
Available in RealTree® Timber and Mossy Oak® BottomLand camouflage patterns

FieldHunter Turkey 12 ga Specifications

24" barrel
44" overall length
6.9 lbs.
Chokes: Extended Extra Full, Full, Improved Modified

FieldHunter Turkey 20 ga Specifications

22" barrel
42" overall length
6.2 lbs.
Chokes: Extended Extra Full, Full, Improved Modified

FieldHunter Turkey .410 cal Specifications

26" barrel
46" overall length
6 lbs.
Chokes: Full, Modified, Improved Cylinder (all extended)

The new FieldHunter Turkey series will be available in 12 gauge, 20 gauge, or .410 bore. The 12 and 20-gauge versions will come complete with Extended Extra Full, Full and Improved Modified chokes while the .410-bore version will come with Full, Modified, and Improved Cylinder extended chokes. Each of the shotguns weighs less than 7 pounds and will be available in Realtree Timber and Mossy Oak Bottomland camouflage patterns. Each shotgun has a suggested retail price of $399.99 making them an affordable option for up-and-coming turkey hunters or those looking to gift someone a Turkey Hunting shotgun this holiday season. For more information, you can visit http://hatsanusa.com/.

The FieldHunter Turkey is available in two camo patterns: RealTree® Timber and Mossy Oak® BottomLand. Each gun ships with 3 interchangeable chokes suitable for a variety of turkey hunting situations. A 5-inch long cantilever optics rail features 4 cross-slots to accommodate a variety of Weaver mounts. The shotgun is also equipped with bright fiber optic front and rear sights for low-light hunting. The red front fiber is windage adjustable while the rear green fiber sight is both windage and elevation adjustable. Both fibers can be removed entirely to make way for mounted optics. All Hatsan's barrels are hard chrome-lined for maximum durability and corrosion resistance. Safety is a significant concern for any firearm, so a manual cross-button safety is built in. Mounted sling studs make for easy carry and firing support.

With ESCORT's FieldHunter Turkey shotguns you're set, right out of the box, for your next turkey hunting adventure.